Events
2017
Huntsville Museum of Art — "Red Clay Survey: 2017 Exhibition of Contemporary Southern Art" — July 9 — September 24, 2017
Huntsville Museum of Art, 300 Church Street SW, Huntsville AL, 35801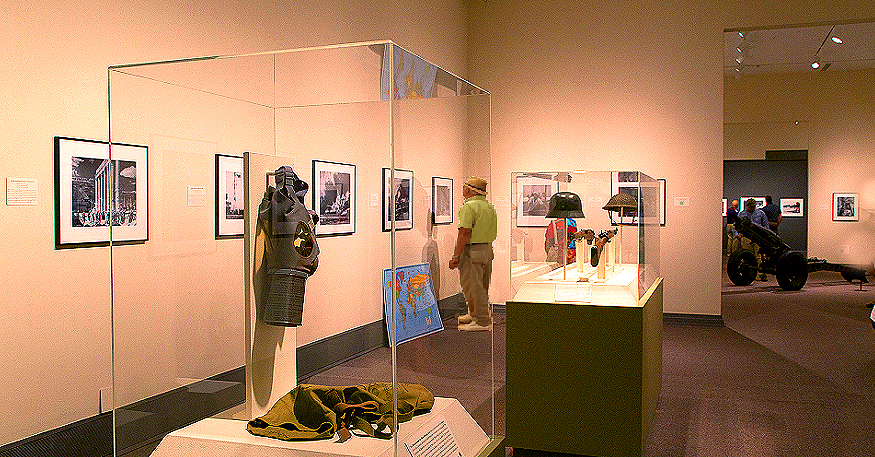 Lyndon House Arts Center — "42nd Juried Art Exhibition" — March 23 – May 6, 2017
Lyndon House Arts Center, 293 Hoyt Street, Athens, GA 30601


Athens Academy — Bertelsmann Gallery — "Athens Metal Arts Guild Members' Exhibition" — February 27 – April 21
1281 Spartan Lane, Watkinsville, GA 30677
Greenville Center for Creative Arts — "Wearable Art" — April 7 – May 24
Cuttlefish Casting Workshop — Greenville Center for Creative Arts — April 29
Greenville Center for Creative Arts, 25 Draper Street, Greenville, SC 29611
Cuttlefish Casting Workshop — Georgia Goldsmiths Guild — May 20 & 21
Keum Boo (attached gold) and Roller Printing Workshop — Georgia Goldsmiths Guild, August 26-27, 2017
Keum Boo Workshop Handout — click here to download a PDF
Georgia Goldsmiths Guild Studio, 5353 Buford Highway, Doraville, GA 30340
2016
Oconee County Cultural Arts Foundation, Watkinsville, Georgia — "Barbara Mann — Solo Exhibition." October 7 – November 11, 2016
34 School Street, Watkinsville, GA 30677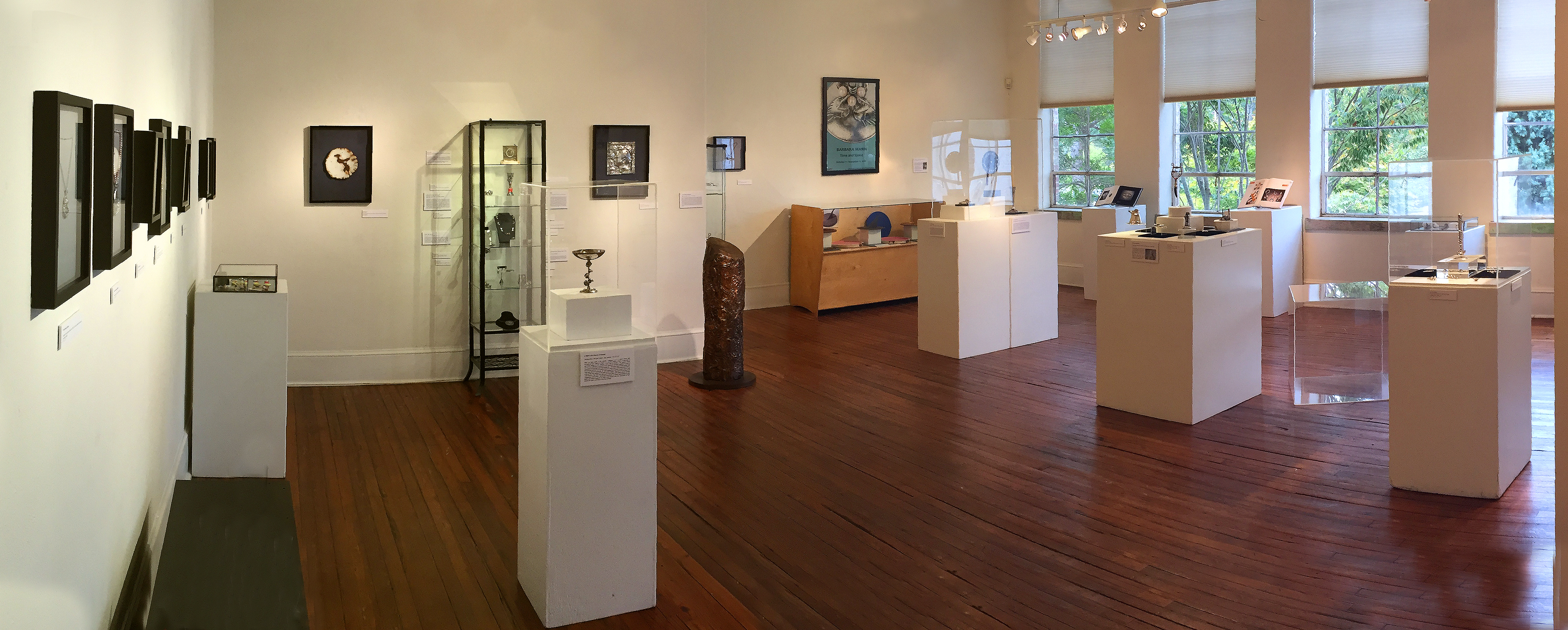 Hotel Indigo Art Gallery — "Tiny Universe" — September 23 – December 29, 2016
500 College Avenue Athens, GA 30601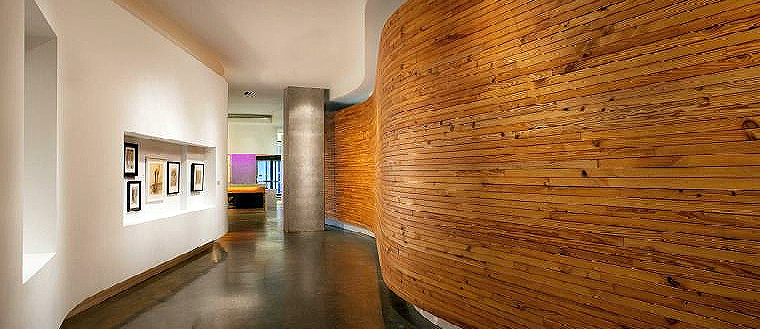 Aurum Studios Ltd — Jewelers — September 22 – October 31, 2016
125 East Clayton Street, Athens, GA 30601
Lyndon House Arts Center — "41st Juried Art Exhibition" — March 24 – May 7, 2016
293 Hoyt Street, Athens, GA 30601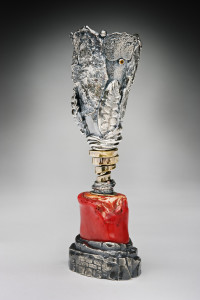 Barbara Mann's "Dante's Divine Comedy — Climb to Utopia" was awarded the "Nancy Lukaseiwicz Award for Excellence in Fine Crafts" by Juror Jock Reynolds, Director Yale University Art Gallery
---
Abernathy Arts Center – "2016 Georgia Artist Juried Exhibition" — May 6 – June 17, 2016
254 Johnson Ferry Road, NW, Sandy Springs GA, 30328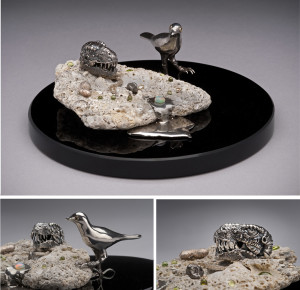 Evolution/Panspermia
---
"Artist Spotlight: Barbara Mann," by Holly Roberts, Red and Black/Ampersand Magazine,
Oconee County Cultural Arts Foundation, Watkinsville, Georgia — "Barbara Mann — Solo Exhibition." October 8 – November 12, 2016.
34 School Street, Watkinsville, Georgia 30677
Arts on Douglas Gallery — "All That Glitters" — February 6 – March 12, 2016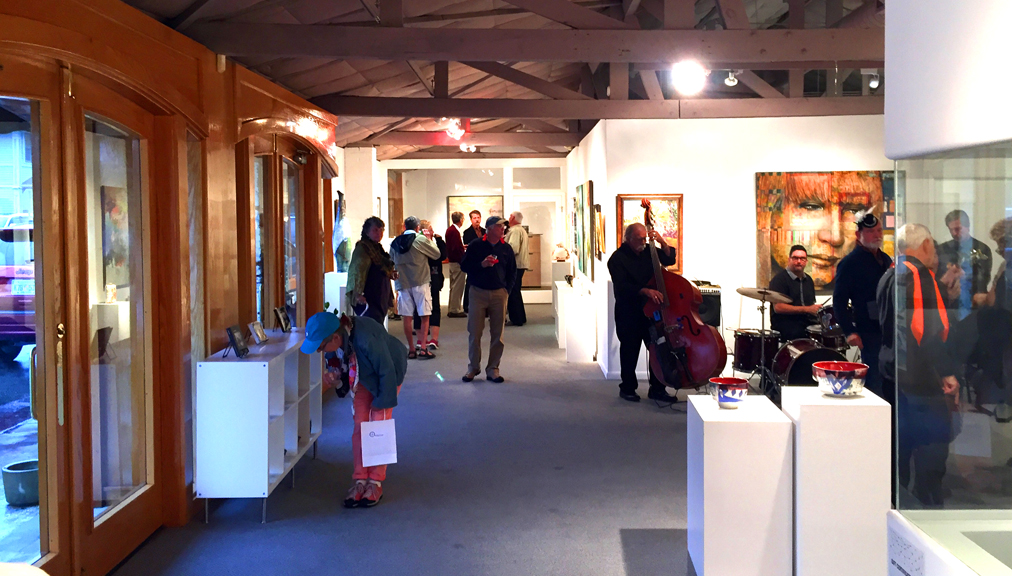 Arts on Douglas Gallery — New Smyrna Beach, Florida
All That Glitters — a national jewelry invitational exhibition and sale, running through March 12, 2016. The collection of wearable designs were created by ten accomplished jewelry artists from seven states. Barbara's 16 pieces in the collection can be seen among all the exhibition objects on pages 2 3 4 5 6 & 8.

Oyster Necklace with Pink Pearls Pearl Ring Italian Cypress Seed Ring Coral and Pearl Ring

Flowing Water & Shell Bracelet Protective Garlic Necklace Flowing Water Bracelet Peachpit Bracelet
---
Imperial Centre for the Arts & Sciences — "Handcrafted 2106" – February through May, 2016
270 Gay Street, Rocky Mount, North Carolina 27804

Maria V. Howard Arts Centre at the Imperial Centre for the Arts & Sciences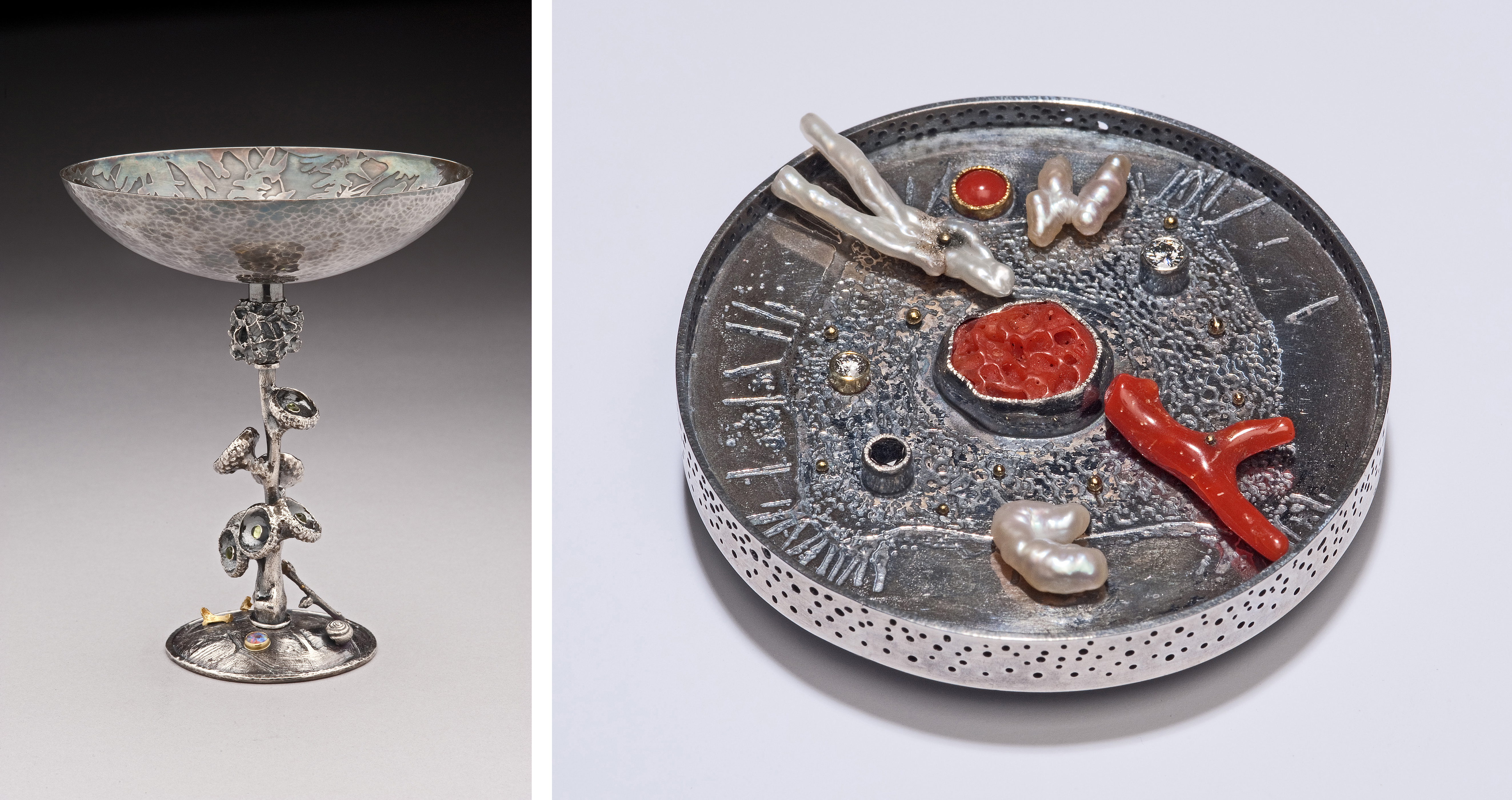 A Walk In The Georgia Woods A Slice of Life Pendant
---
2015
"Barbara Mann: Transformation & Evolution"
Wiregrass Musuem of Art, Dothan, Alabama, July 17 through December 31, 2015
"Athens Metal Arts Guild Exhibit"
Aiken Center for the Arts, Aiken, South Carolina, November 5 – December 1, 2015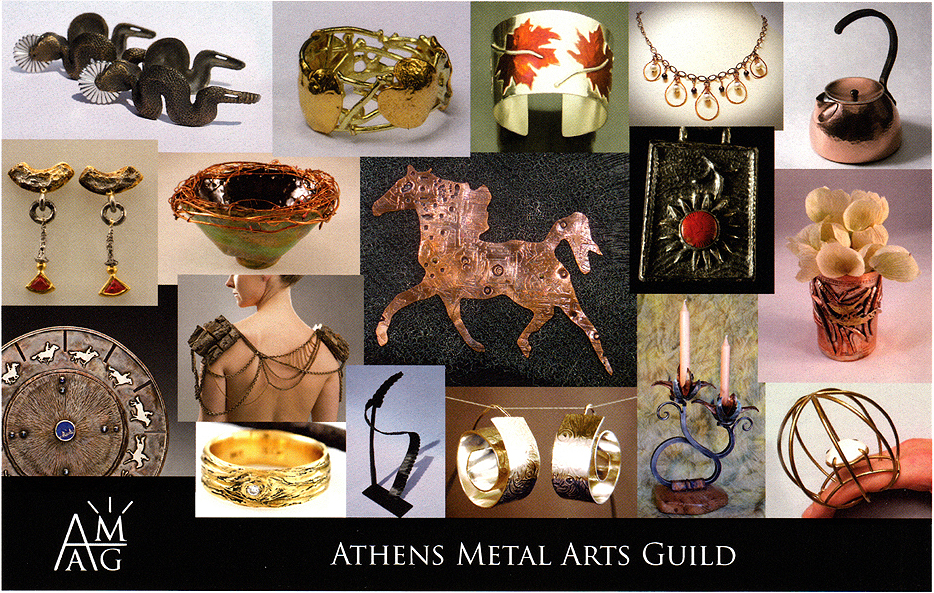 Richard Shrader, Gary and Sydney Noffke, Carol McKay, Diane Perry, Courtney Pendergrast Poole
Rob Jackson, Jim Norton, Barbara Allen, Tom Keran and Mary Soppko, Sylvia Dawe
Barbara Mann, Kate Furman, Beth Cyr, Richard Shrader, Ellen Cown, Dietrich Hoecht, Leslie Grove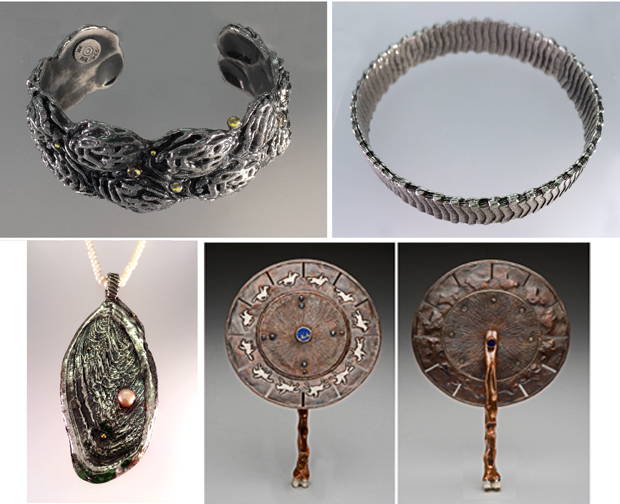 Peachpit Bracelet, Ebb and Flow Bracelet (cuttlefish-cast)
Oyster Shell Pendant, Phenakistoscope

Oconee Cultural Arts Foundation Holiday Market, December 4, 5 & 6, 2015
34 School Street
Watkinsville GA 30677
---
News
Recent Reviews
"The Jewelry and Metalwork of Barbara Mann," Ornament Magazine, feature article by Ashley Callahan, Vol. 39, No. 5, 2017.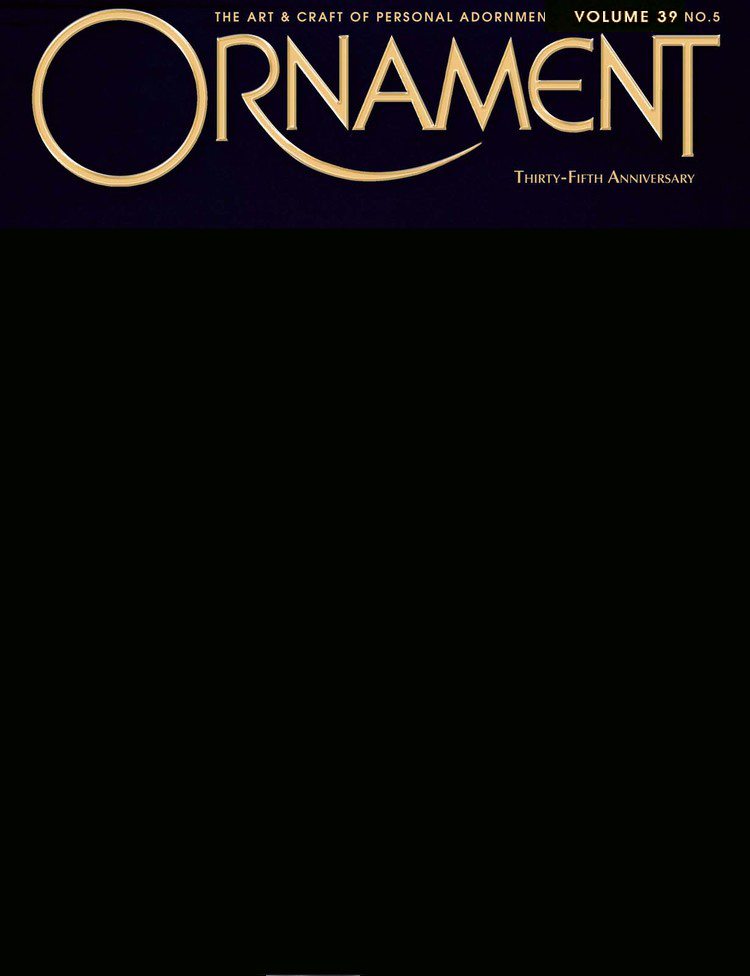 Cast: Art and Objects Made Using Humanity's Most Tranformational Process, Jen Townsend and Renee Zettle-Sterling, 2017.
"Barbara Mann at Wiregrass Museum, Dothan, Alabama."
World Sculpture News, pages 58-59.
"Barbara Mann: Form and Response" at Malone Gallery, Troy University, Troy, Alabama."
MetalSmith Magazine, August 2011, pages 4 & 52.