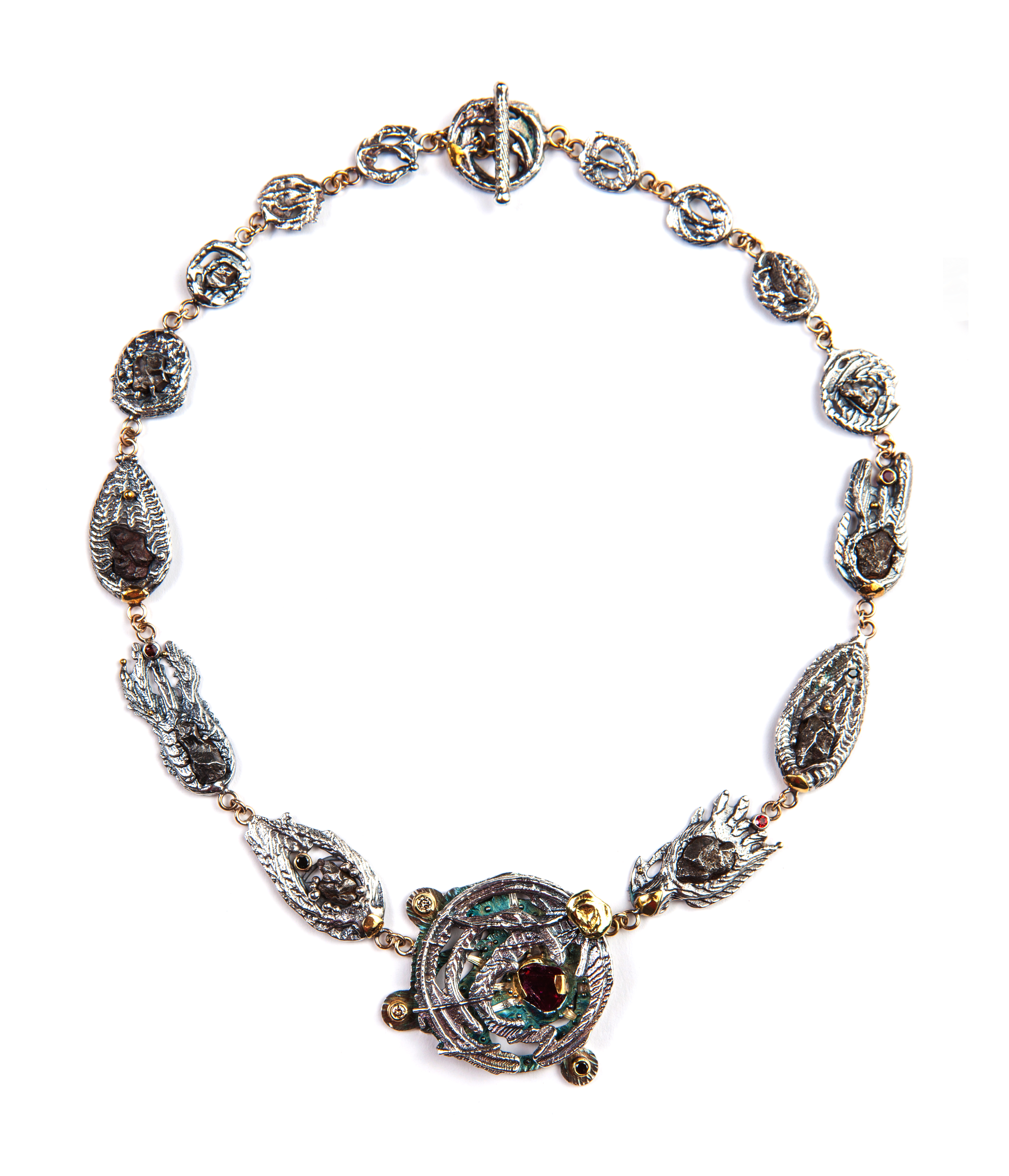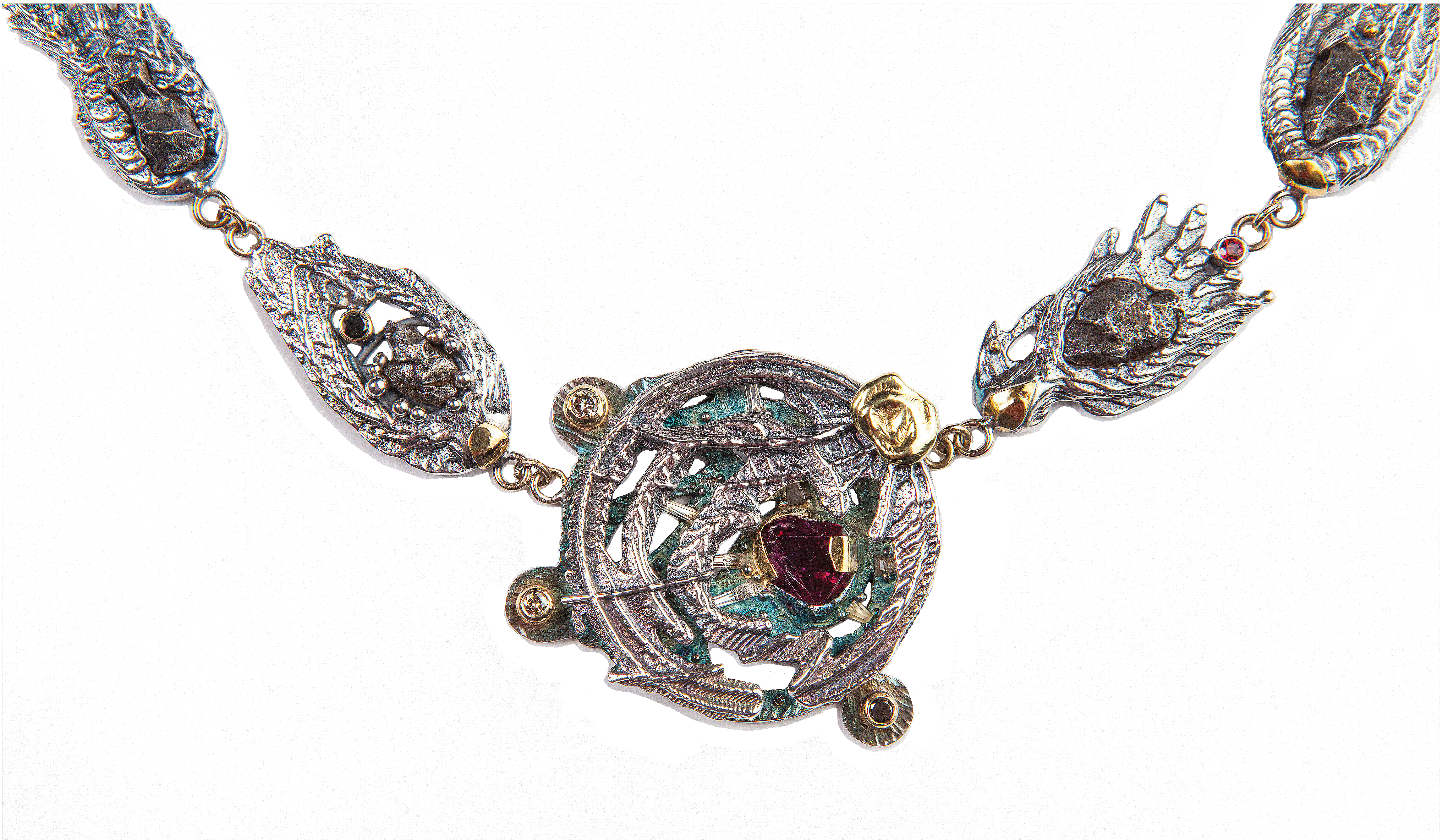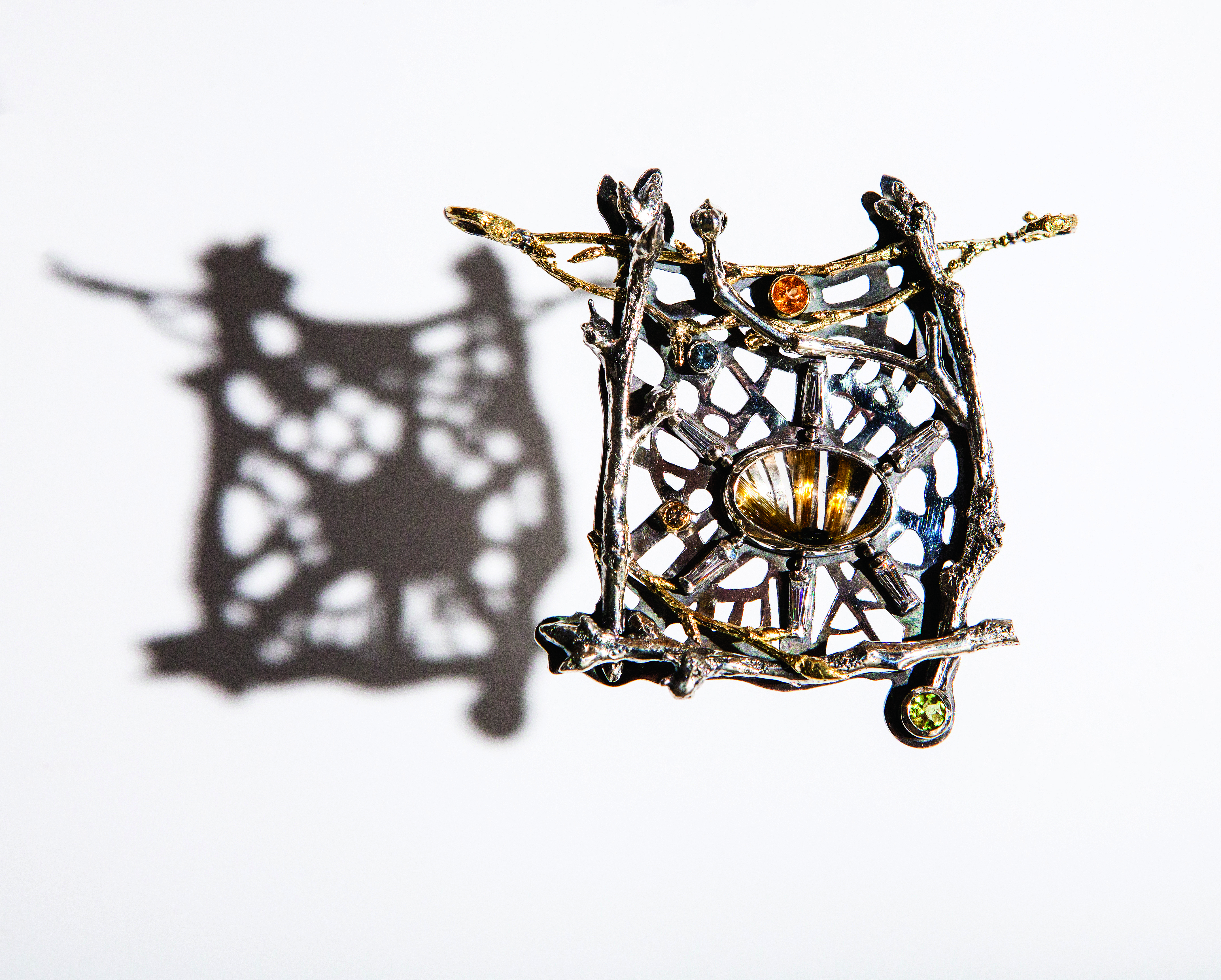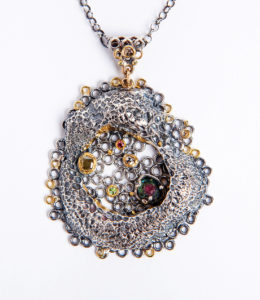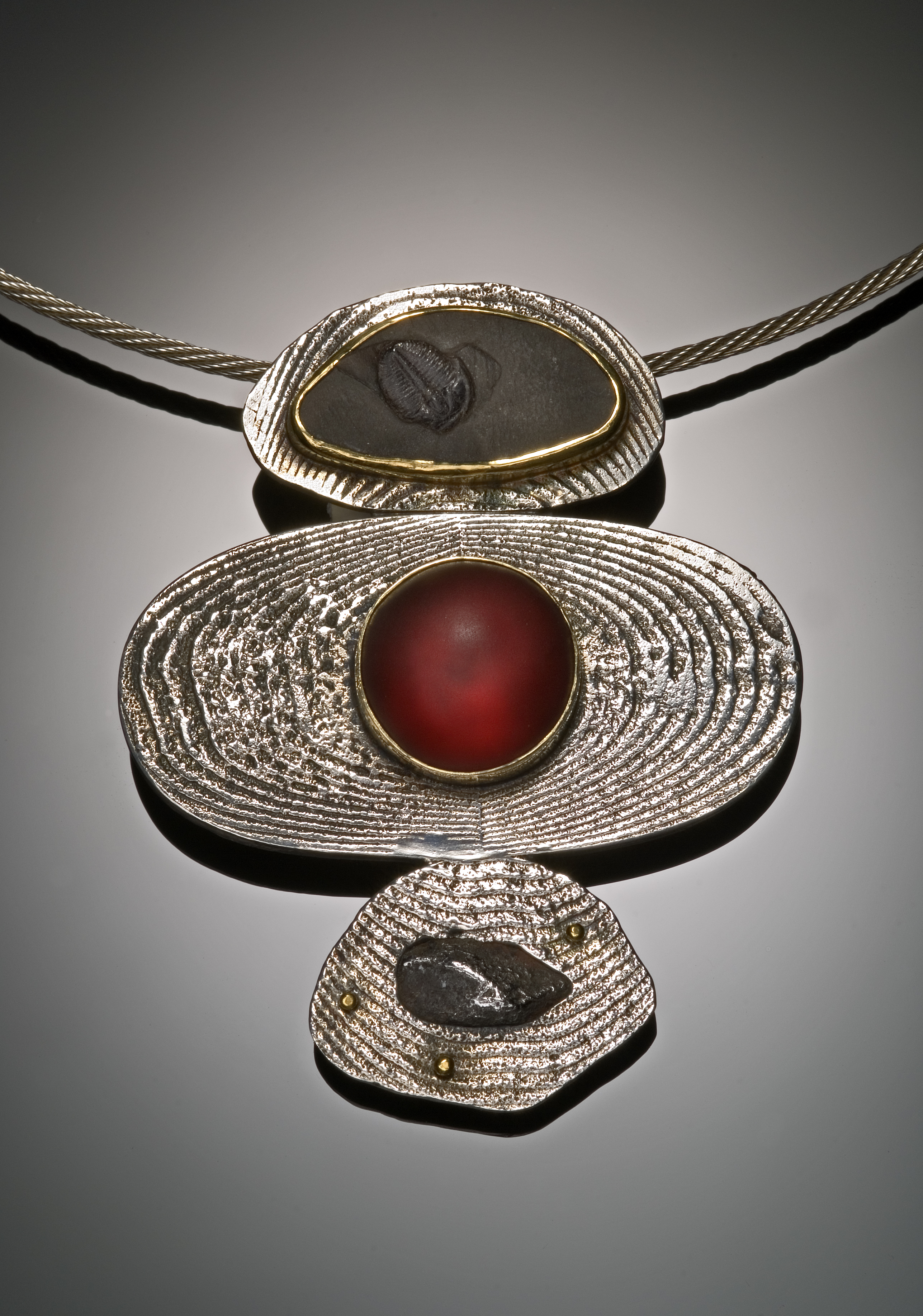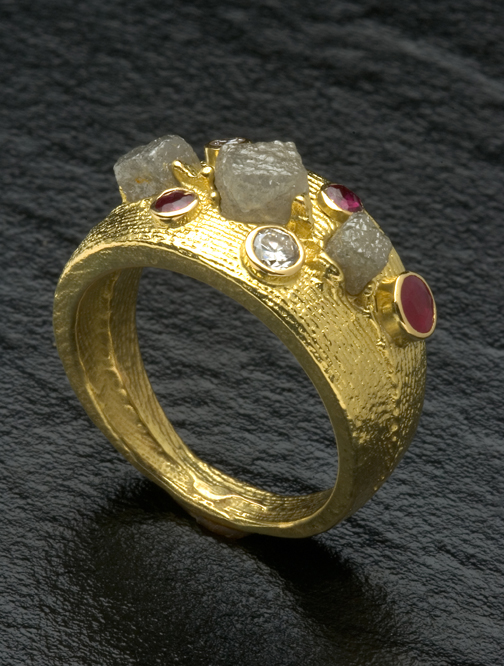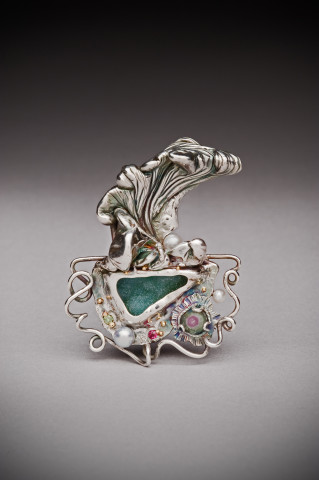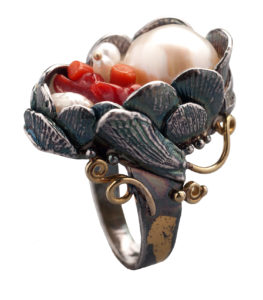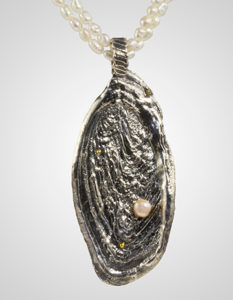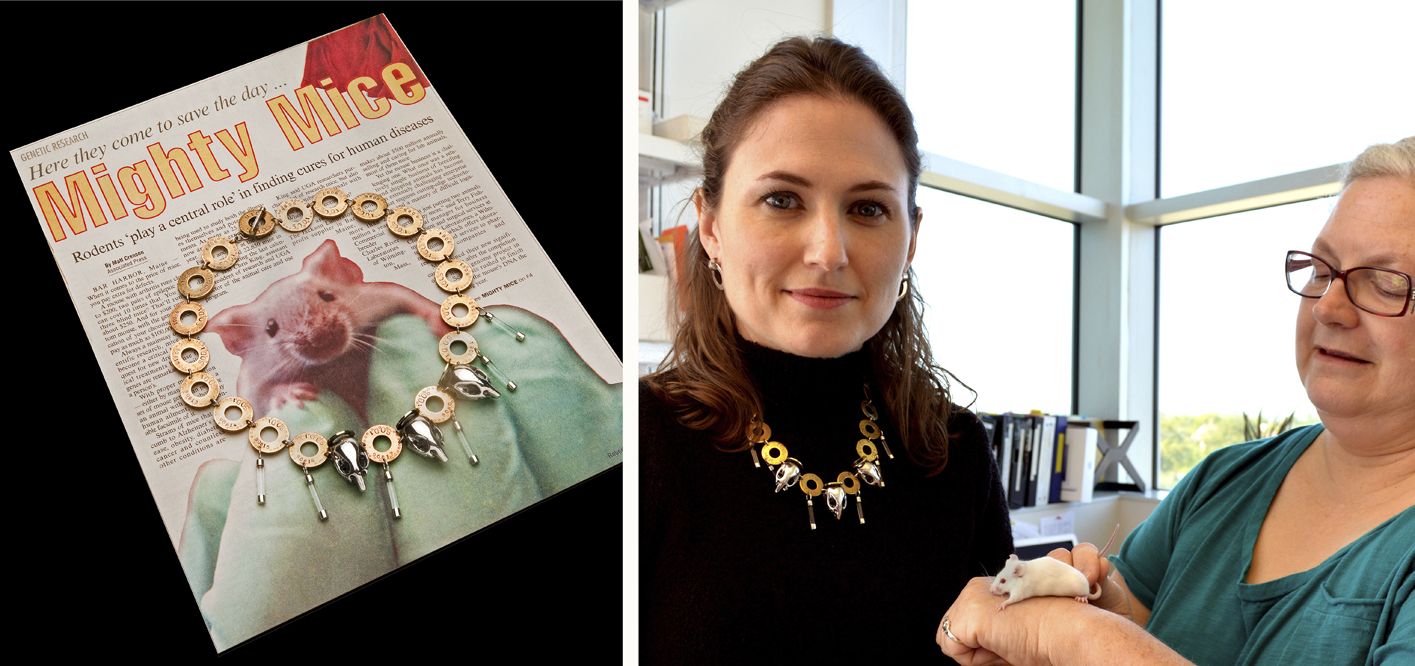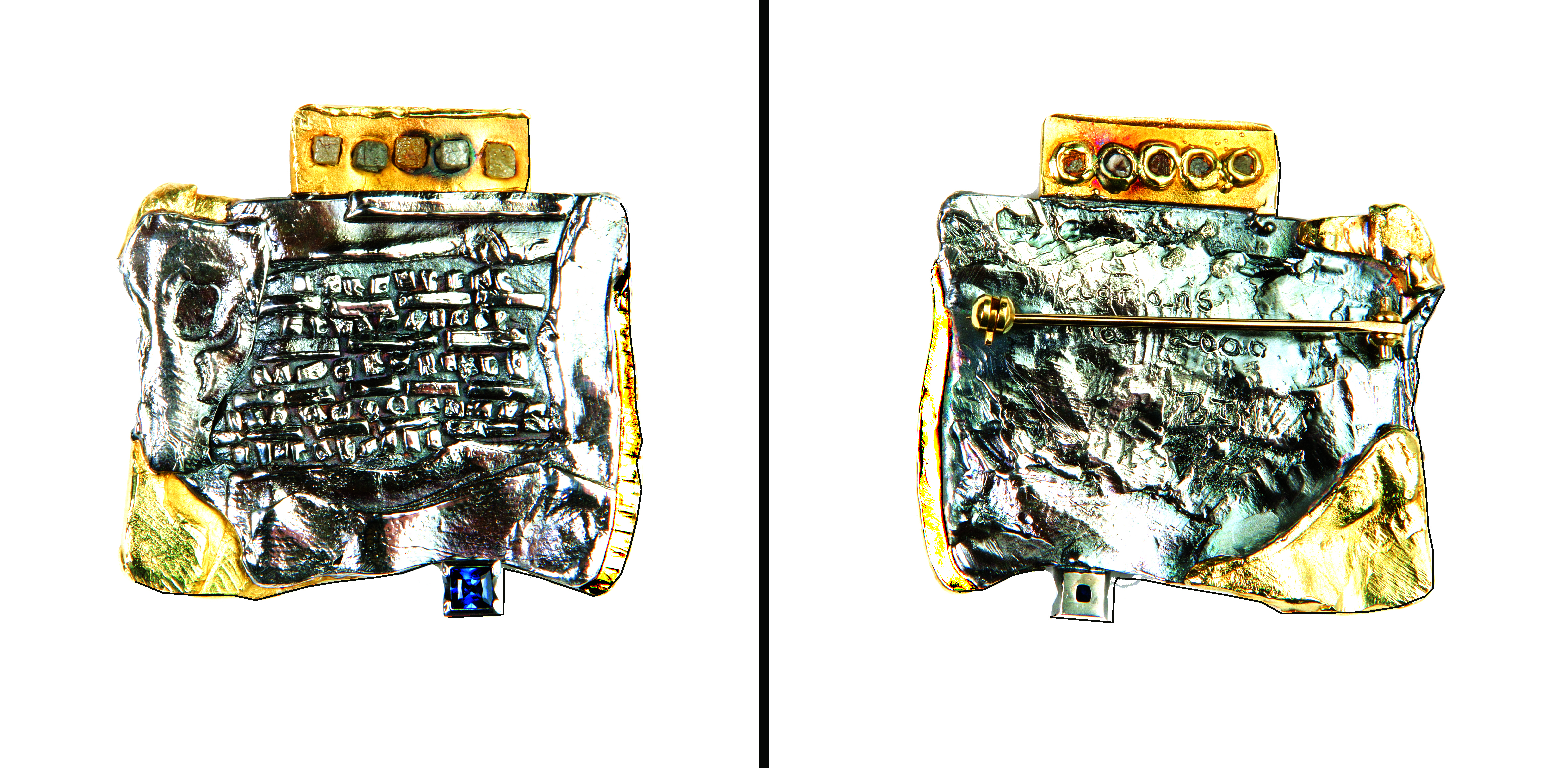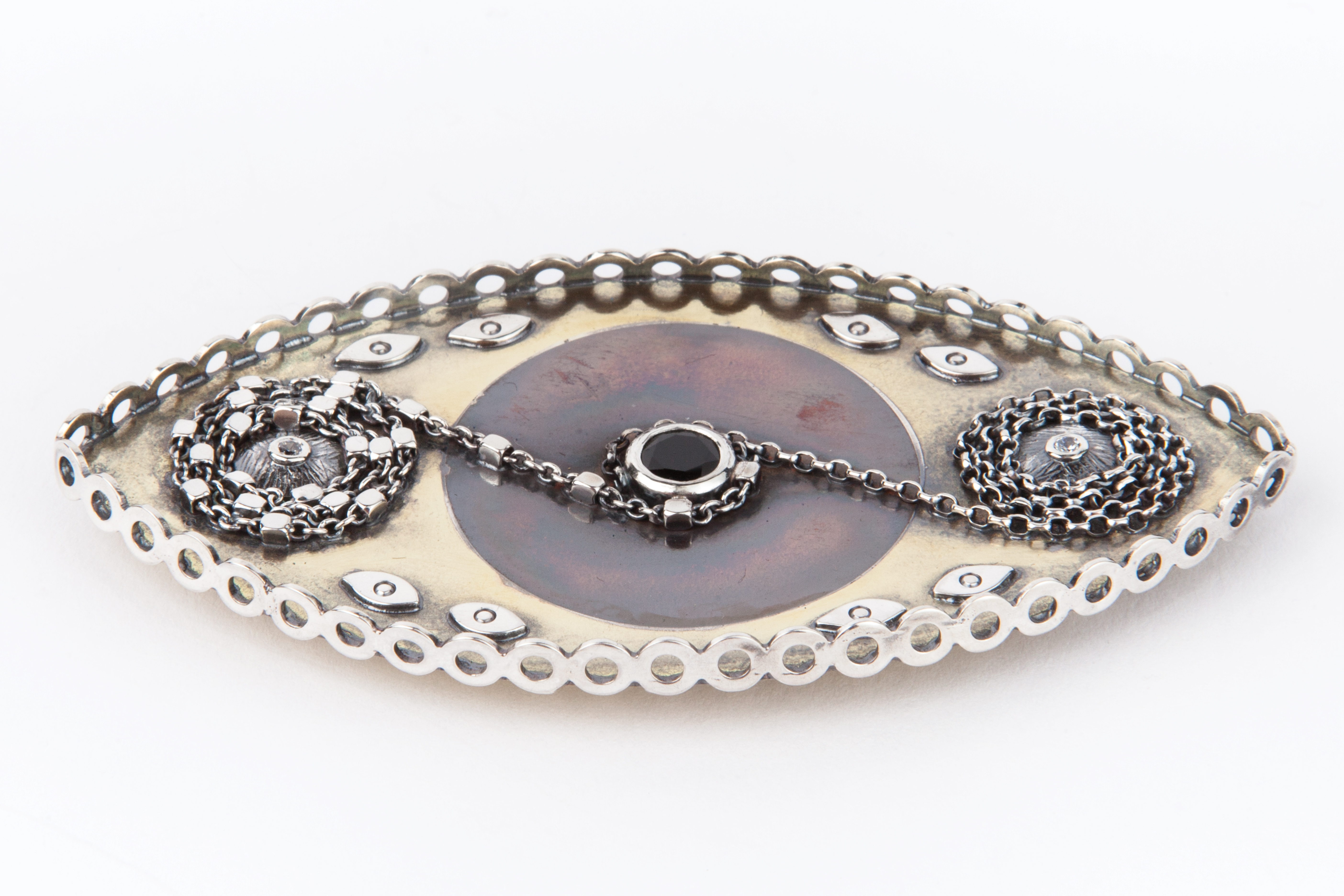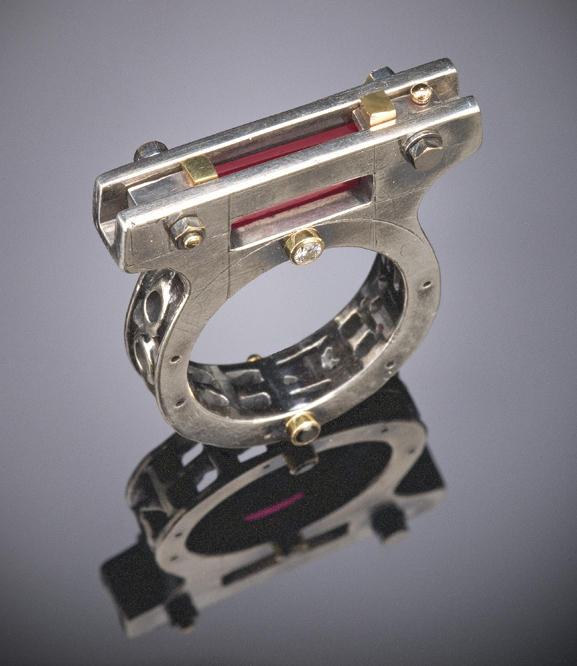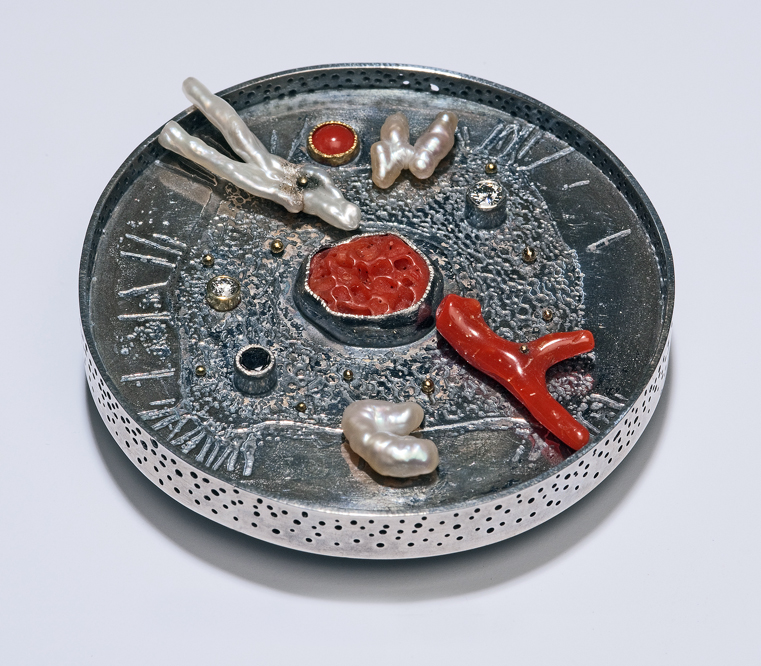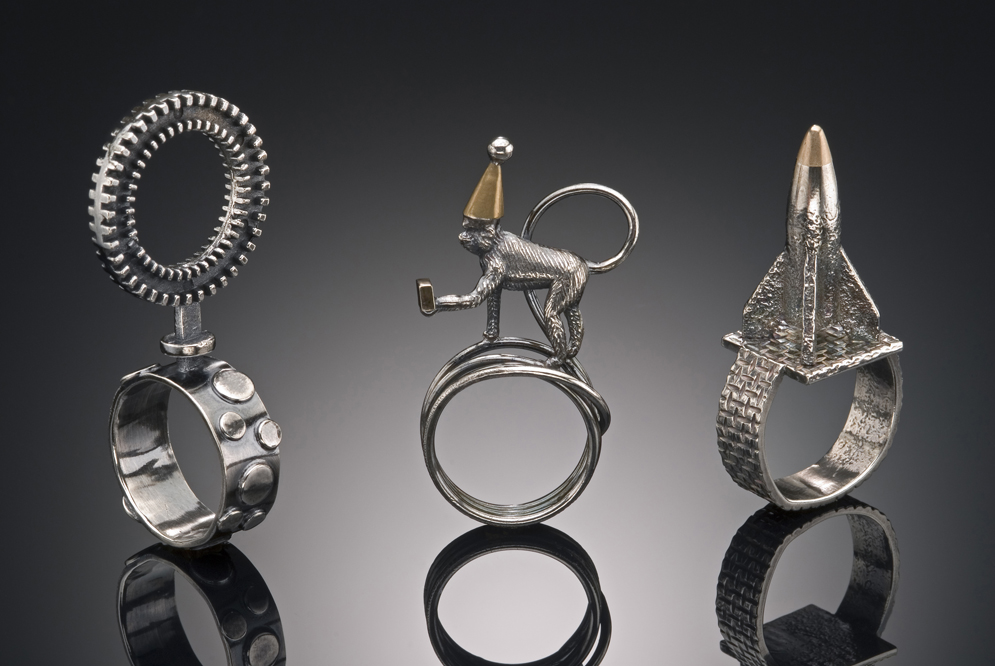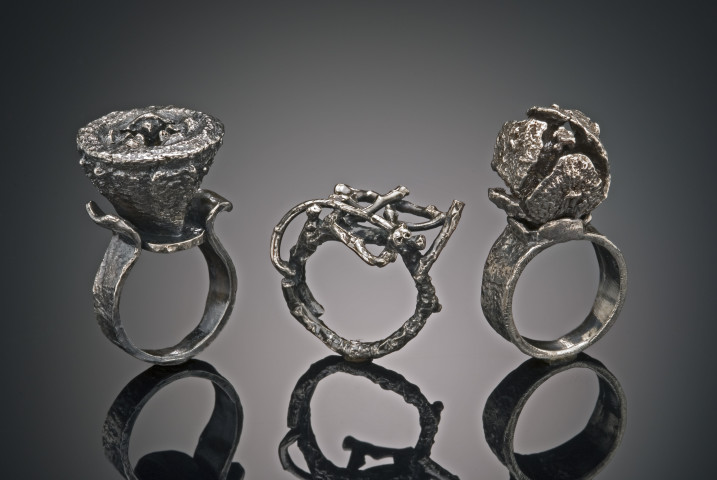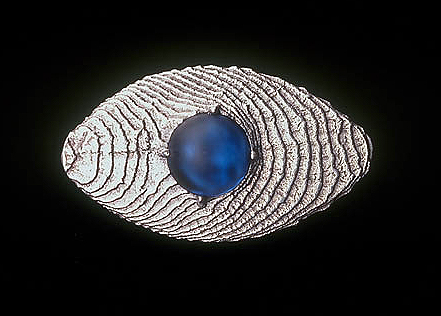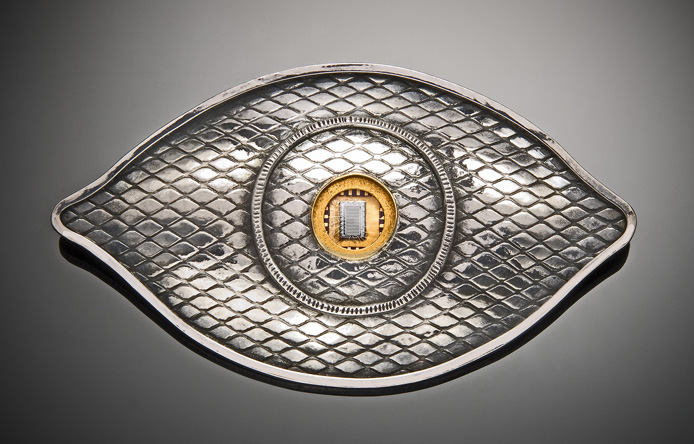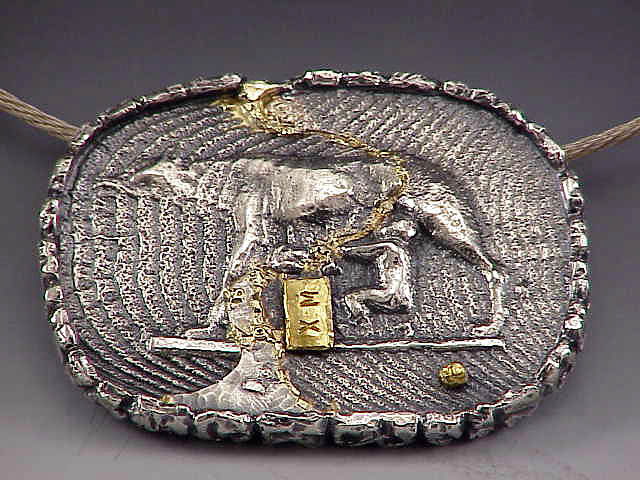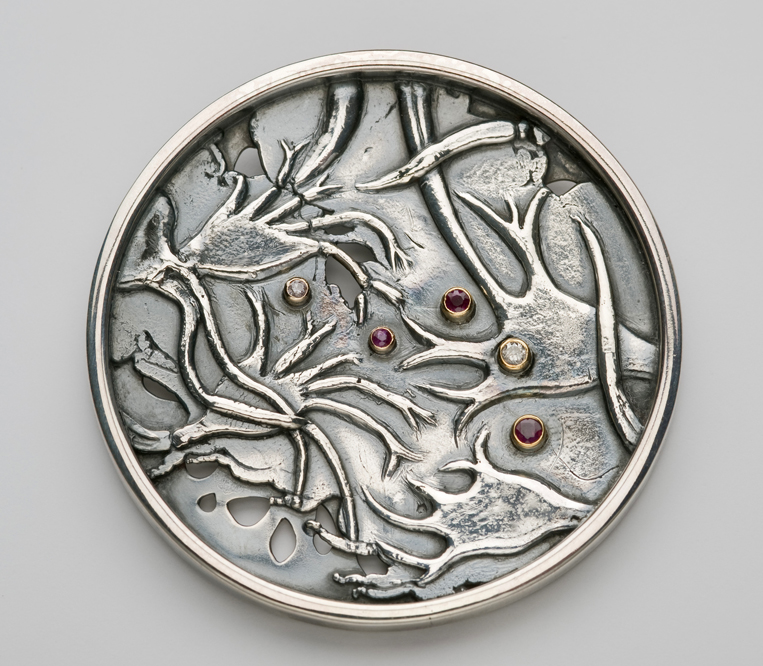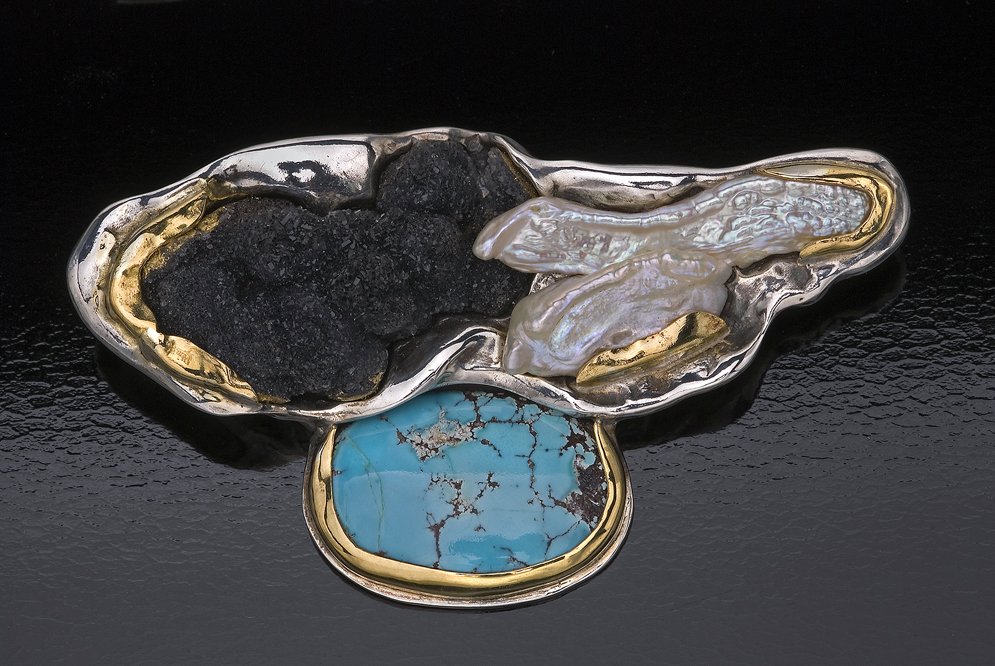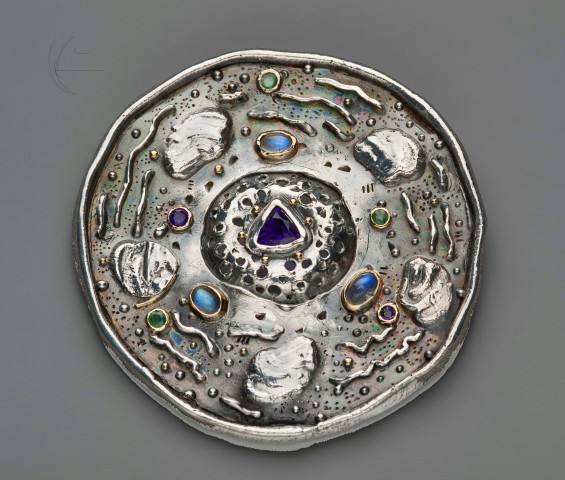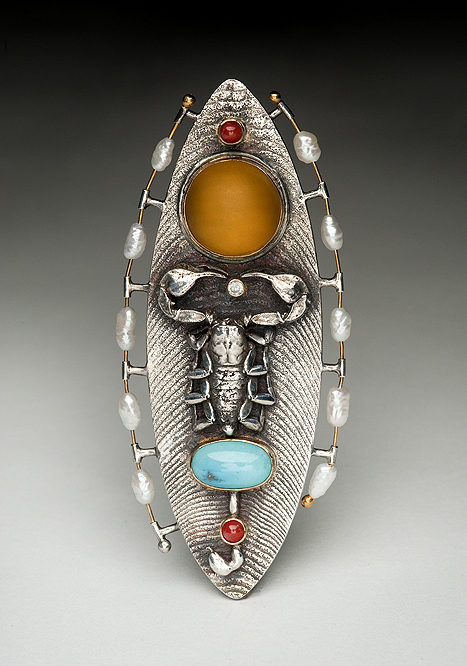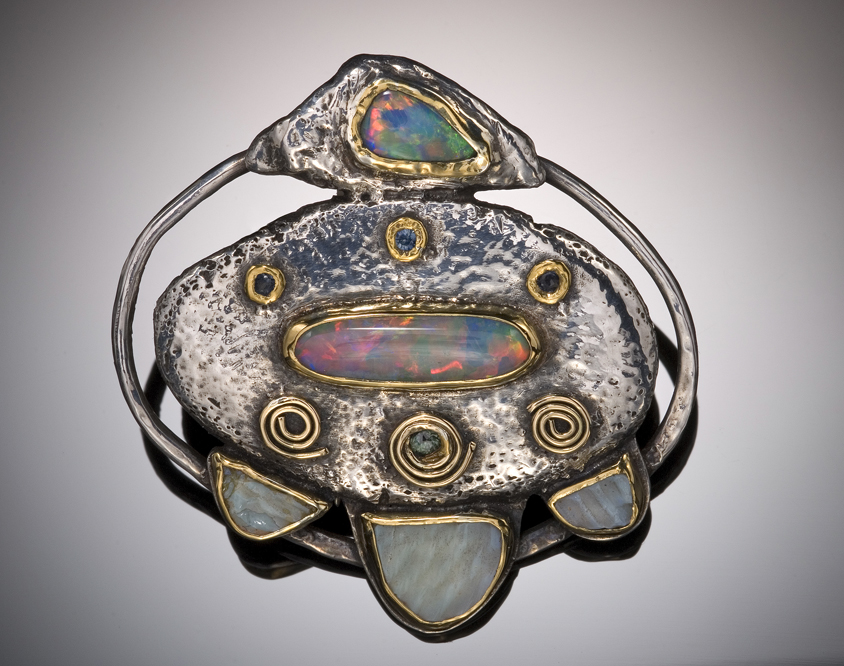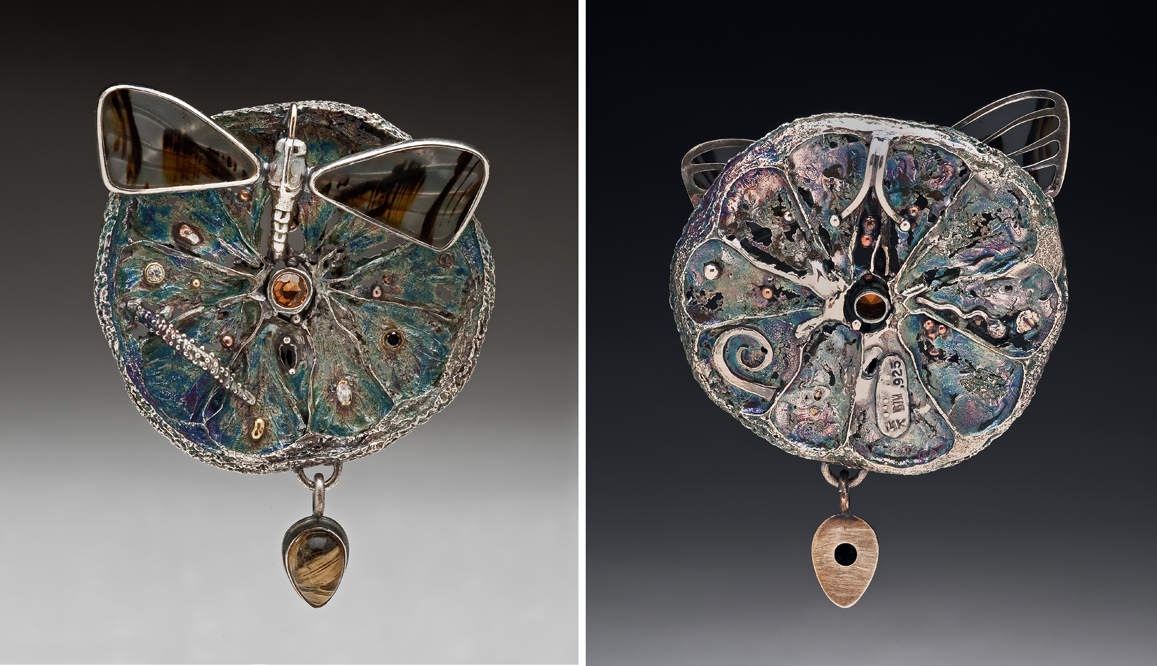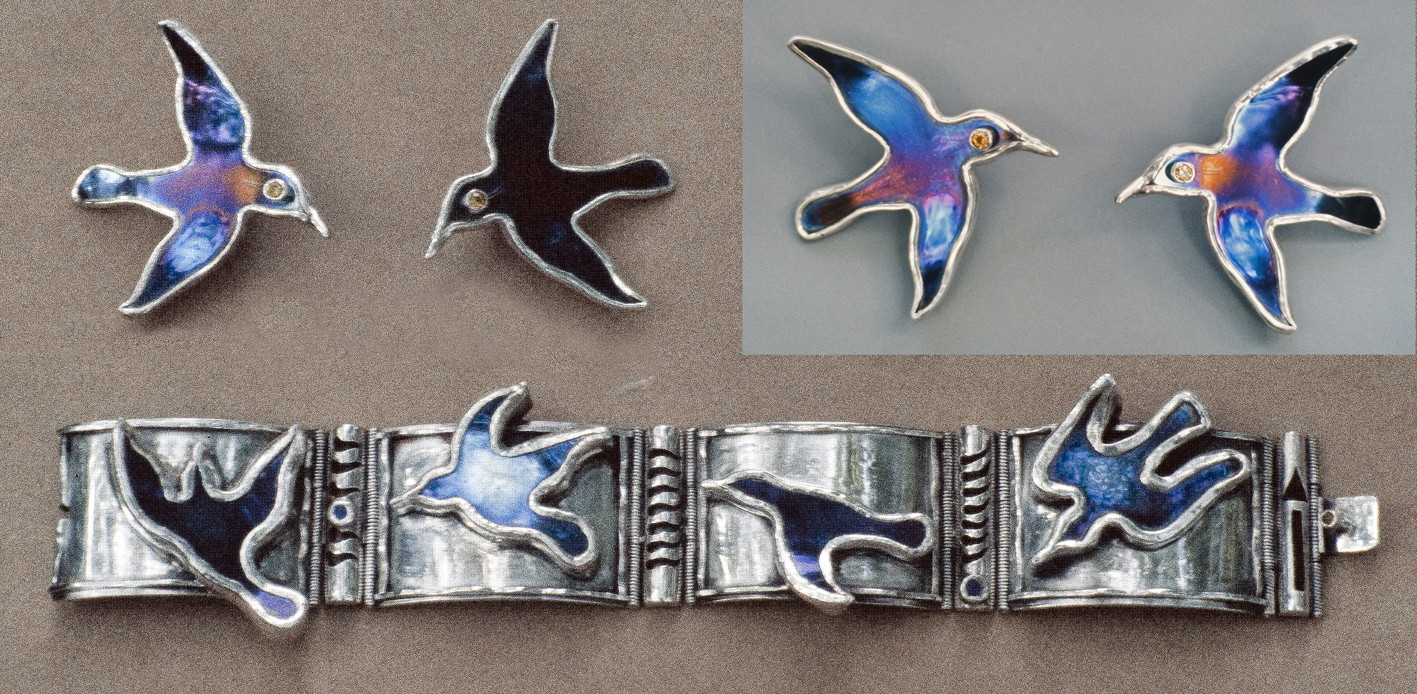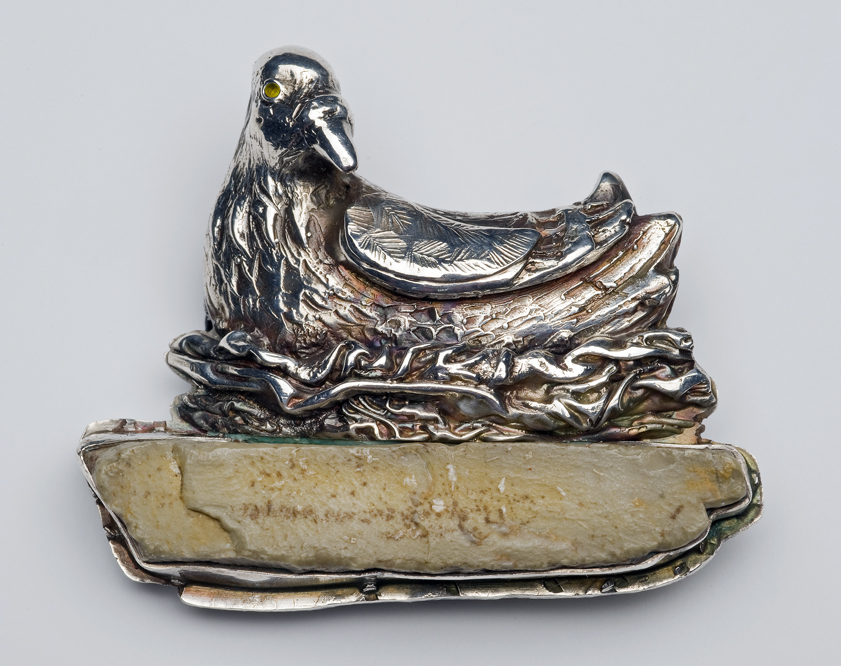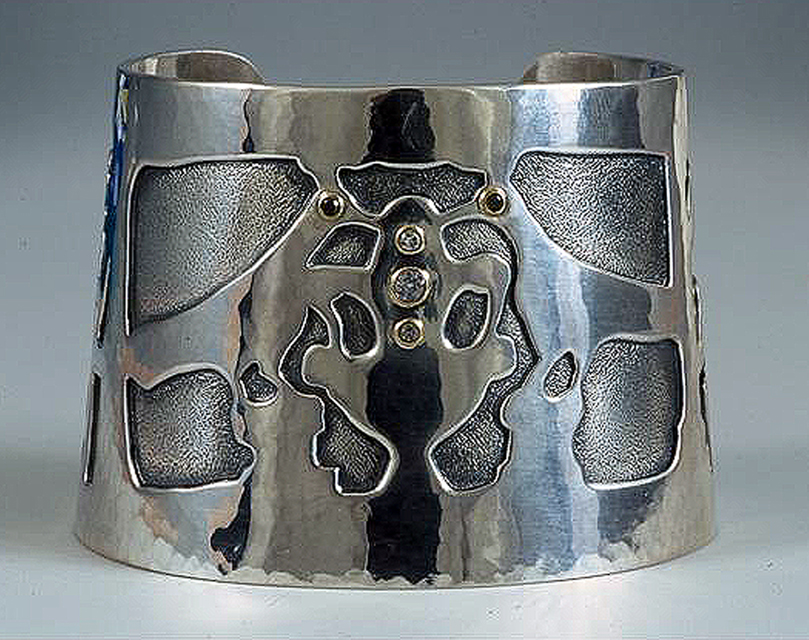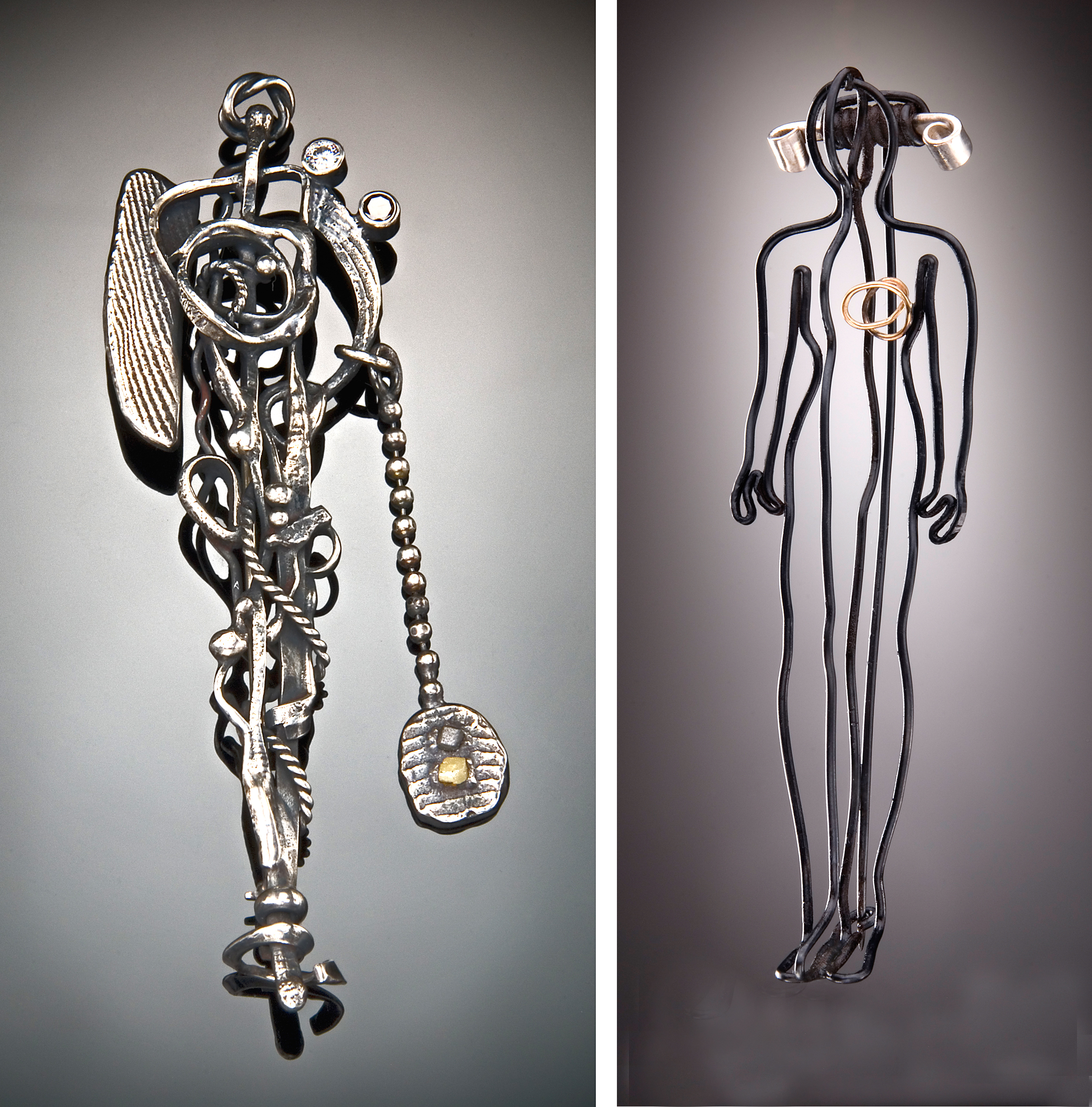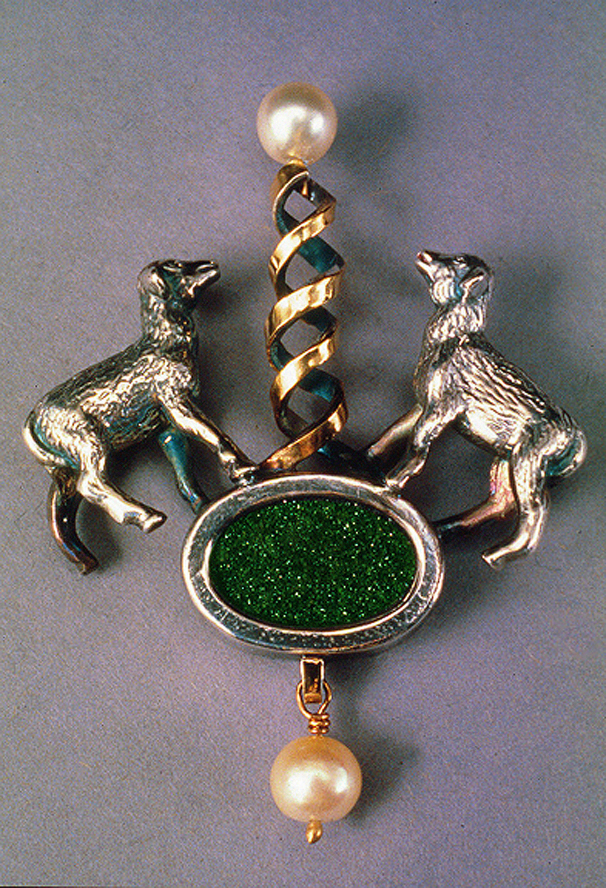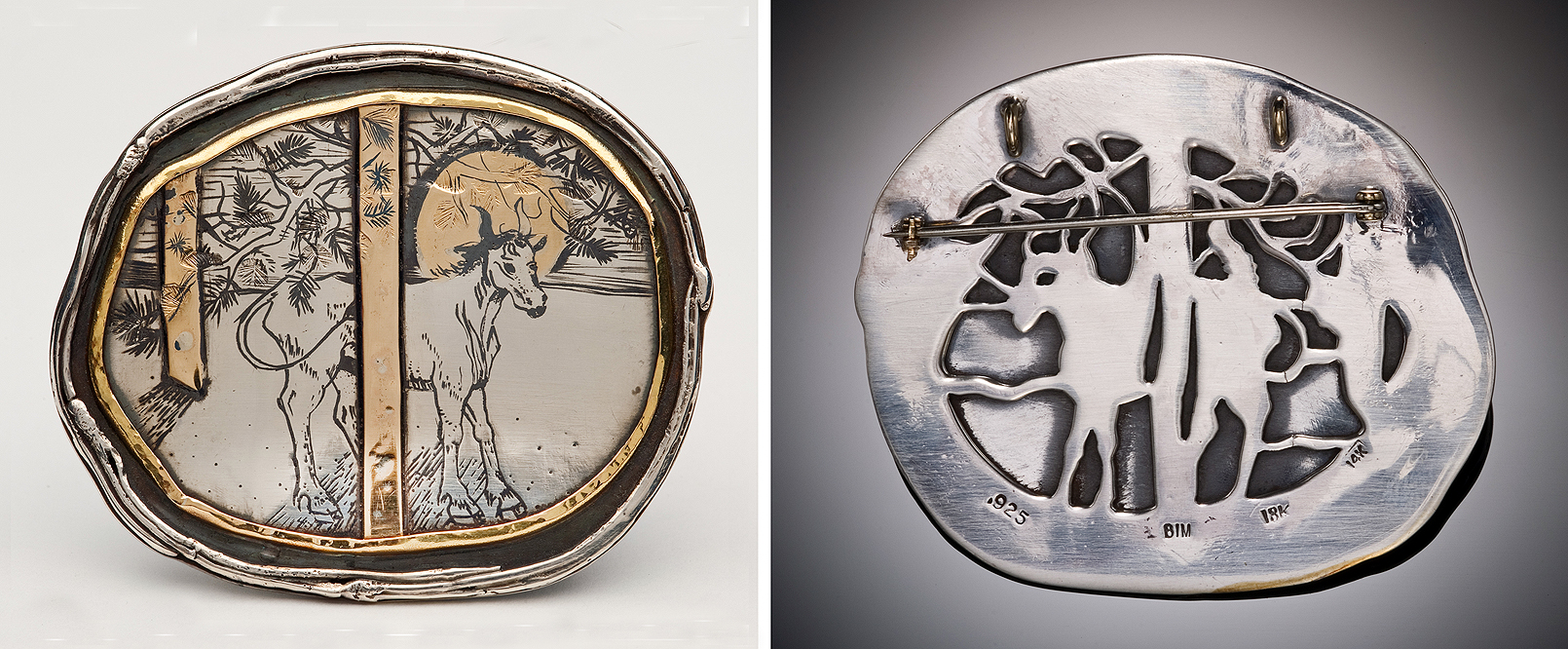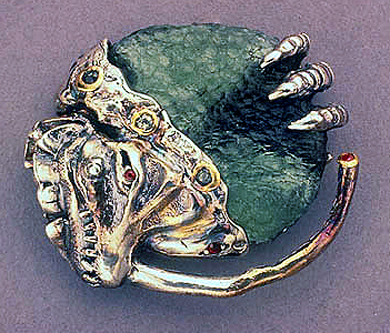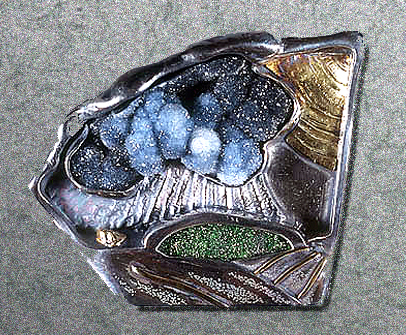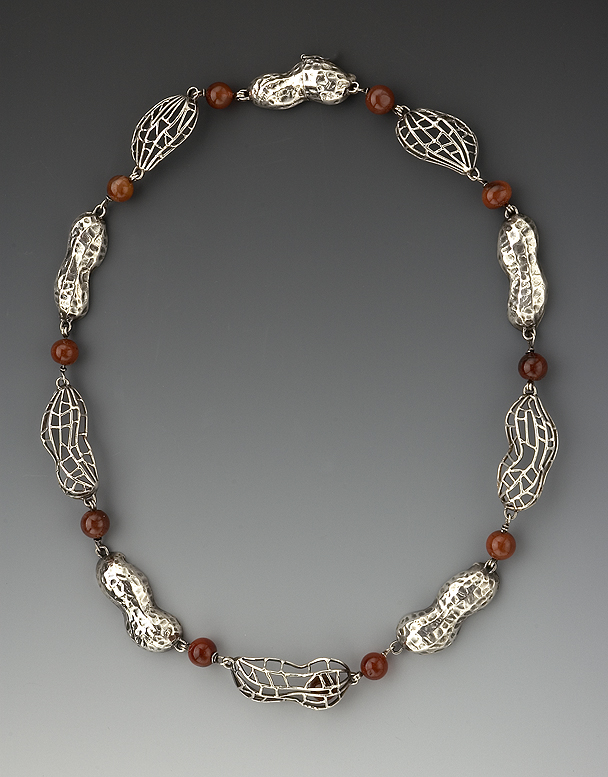 ---
Description of Selected Objects
Meteorite Necklace — Meteorites, to me, suggest the possibility that space material can come from far away with the potential of carrying or containing elements which are not native to the place they are landing. The theory of Panspermia fascinates me. There have also been diamonds found which have inclusions from space material. sterling silver, 22K gold, 18K gold, meteorites, diamonds, cubic zirconias, garnets, rubies, 16" x 1" x .5"
Proliferation Pendant — argentium sterling silver, 14K, 18K, 22K, 24K gold, diamonds, watermelon tourmaline, and spinel, 2.5" x 2" x .5"
Life on Mars – At the top of this three-part cuttlefish bone-cast silver pendant is a fossil of a trilobite — a marine arthropod that became extinct from the earth 250,000,000 years ago. The center of the piece is dominated by a red glass orb encircled in gold. It is set within a silver ellipse whose concentric waves express the cuttlefish bone from which it was cast. Suspended below, another silver disk holds a fragment from a meteorite. The piece evokes questions about whether the Red Planet once harbored life. sterling silver, 18K gold, 22K gold, druzy, pearl, glass, meteorite, trilobite fossil; 2.75" x 2" x .5"
Research Mice as Saints — This necklace depicts research mice having been given ALS by injecting them with a defective chromosome, SOD1. This is known to occur in some patients with ALS (Amyotrophic Lateral Sclerosis, or Lou Gehrig's) who have the inherited form of the disease. sterling silver, brass, Pyrex glass; 18" x 1" x 1"
Grandmother's Eye, Four Generations Brooch —
copper, sterling silver, cubic zirconias, spinel, 1.75″ x 1″ x .25″
Everlasting Life – This cuff bracelet incorporates archetypal symbols of rejuvenation and immortality. It shows birds drinking water from a vessel — representing the spiritual as opposed to the material. Birds on a tree, or an abstracted pillar, symbolize the tree of life. sterling silver, black and white diamonds; 2.5" x 2" x 2.5"
---
The following descriptions are from Professor Dorothy Joiner's review of "Barbara Mann: Form and Response," Malone Gallery, Troy University, Troy Alabama, 2011. MetalSmith Magazine, August 2011, pages 4 & 52
Dorothy Joiner, Lovick P. Corn Professor of Art History, LaGrange College, LaGrange GA
"Barbara Mann: Form and Response," Malone Gallery, Troy University, Troy Alabama
Because contemporary taste has tended to devalue beauty, and because jewelry is inevitably associated with the beautiful—few would adorn themselves with something ugly—jewelry has sometimes been assessed as craft rather than as "fine art." Belying this prejudice, however, Barbara Mann's works are sculptures in miniature, incorporating not only witty plays of form but also wide-ranging allusions to science, faith, and tradition, often evoking aesthetic meditations on life and death. Form and Response, a recent exhibition of her work at Troy University, displayed a wide range of the artist's rings, brooches, pendants, necklaces, spoons, and liqueur cups, all expertly crafted in gold and silver.
Reflecting Mann's interest in science as well as a more personal association, Creation Stem Cells Brooch (2010) imitates a circular petri dish incubating stem cells, their branch-like extensions stretching toward each other in the miracle of growth. With an aesthetic alchemy, Mann transmutes these configurations into the celebrated creation scene from the Sistine ceiling, in which God the father reaches toward Adam, infusing his languid figure with vitality. Three rubies set in gold indicate health, and twinned diamonds convey energy. Irregular perforations of the surface offer depth at the same time that they adumbrate deterioration, the inverse of growth. Mann's interest in these nerve-growing stem cells derives from her son's struggle with Lou Gehrig's disease, or ALS, a malady attacking the nervous system.
Research Mice as Saints (2010), a necklace also inspired by medical research, punctuates a string of reiterated brass washers with three silver mouse skulls, each crowned with a tiny halo, emblem of sanctity, earned by sacrificing their lives to research. Inscribed on each washer, the designation SOD1 indicates the enzyme now considered a possible cause of some forms of ALS.
Other works allude to life after death in a particularly creative way. A spiral of forged silver wire wraps around the white coral stem of Swing Low Sweet Chariot Liqueur Cup (2010). Undulations on the diminutive chalice indicate clouds, and the gold that fills a ragged crack near the lip symbolizes a burst of sunlight. An irregular pearl projecting from the stem suggests the " pearly gates" of heaven, and a diminutive sphere of gold on the spiral refers to the wheels of the fiery chariot that descended in a whirlwind, taking up the prophet Ezekiel ( 2 Kings 2:11), Biblical source for the hymn from which the cup's title is taken. On the underside of the base, a circle of lapis lazuli, whose hue refers to the heavens, is an emblem joining earth to sky. Mann's cup brings to mind Jean Chevalier's assessment of the chalice as "a vessel holding the draught of immortality."
Echoing this theme, The Everlasting Life Bracelet (2004) relies on a motif from the famous mosaic in Ravenna repeated ubiquitously in Italian cemeteries: paired doves representing souls drinking from a fountain, symbolizing the waters of life. Adapting this convention, Mann layers stylized birds in polished silver over a textured base, somewhat like a palimpsest. Black diamonds create their eyes; and, set between them, white diamonds and blue aquamarines refer to the pure spiritual waters they imbibe.
The artist also takes inspiration from Europe's natural beauties, as in her light-hearted Mediterranean Brooch (2002). Wavy patterns on the graceful ellipse cast from a cuttlebone replicate the surface of the sea. This shape also suggests a boat whose gold railing is punctuated by freshwater pearls. Cabochons, one yellow glass for the sun, the other turquoise for the sea, indicate the intense colors of the region. A cast silver scorpion in the center stands for the continuity of life from prehistory to the present, and the diamond between its claws indicates both the resplendent light and a captured treasure.
Mann's artful jewelry, rich in allusions to art, science, and the charms of nature, certainly provide handsome adornment. But at the same time these bantam sculptures offer much more, inspiring the viewer to ruminate on the great imponderables of nature, life, and death and on their intersection with modern science.
Dorothy Joiner, Lovick P. Corn Professor of Art History, LaGrange College, LaGrange GA 30240
email: bimann2@hotmail.com